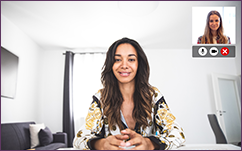 Bringing education and awareness to you and your family
Alnylam Patient Education Liaisons are professionals with backgrounds in nursing or genetic counseling, and are experienced in educating people and their families about matters related to acute hepatic porphyria (AHP).
Your Patient Education Liaison can help you and your family in a variety of ways, such as:
Support with disease education
Connections to additional resources
One-on-one meetings
Contact a Patient Education Liaison
Request a Patient Education Liaison to reach out to you and discuss questions you may have about AHP. Submitting a request is quick and easy—simply fill out the form below.
*Indicates required field