View or download helpful AHP-Related resources
Educational materials and resources have been created to provide you with a greater understanding of acute hepatic porphyria (AHP). These resources will help provide additional education on identification, testing, and management of patients with this debilitating disease.
These resources are not intended to replace the independent medical judgment of any healthcare professional and are for reference purposes only.
HEAR FROM THE AHP
COMMUNITY AND EXPERTS
The videos below are stories from real patients with AHP. Hearing their stories may help you further your understanding of the symptoms and trials your patients with AHP may face.
Two of Me: Living with Porphyria Documentary
In this documentary, patients from around the world share their experiences about living with AHP.
NICOLE'S LONG ROAD TO DIAGNOSIS
Nicole talks about her long journey to an AHP diagnosis, alongside Dr Angelika Erwin, a porphyria expert, who provides an overview of the disease, including symptoms and ways to test for AHP.
MEGAN'S UNPREDICTABLE REALITY
Megan, along with her mother and husband, discuss her struggles with the unpredictable nature of AHP symptoms and how it hinders many aspects of her life.
LEARN FROM A PANEL OF EXPERTS
Understanding Acute Hepatic Porphyria (AHP) is a series of videos produced in 2019, featuring a panel of multidisciplinary experts with first-hand knowledge of treating AHP.
DIAGNOSING AHP
Experts from multiple disciplines speak about what they look for when diagnosing AHP and how you can test for it.
IDENTIFYING MULTIPLE PATIENT ARCHETYPES WITH AHP
A panel of multidisciplinary experts discuss the basics of the disease and share their knowledge on the types, pathophysiology, and symptoms of acute hepatic porphyria.
AHP CASE STUDY
The AHP INTERACTIVE CASE STUDY includes:
A hypothetical AHP diagnosis
AHP signs and symptoms
Quick tests of your AHP knowledge vs other HCPs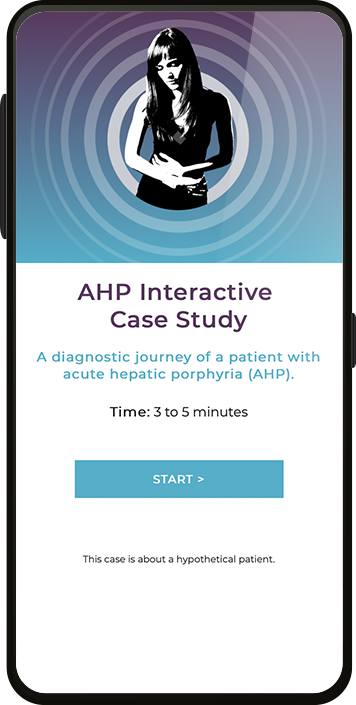 This series of learning modules lays the groundwork for understanding acute hepatic porphyria, recognizing symptoms, and gaining insight into how it may affect your patients. Modules can be viewed online and/or downloaded as PDFs.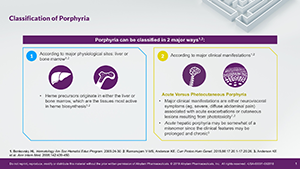 Module 01:
Classification of
Porphyria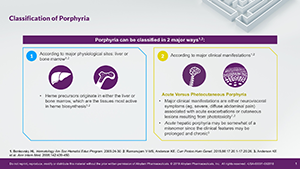 Module

1 Reviews:
2 major categories of the rare genetic diseases classified as porphyria—AHP and photocutaneous porphyria
The prevalence of the most common types of AHP and precipitating factors of attacks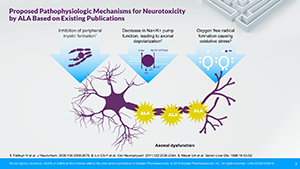 Module 02:
Pathophysiology of Acute Hepatic Porphyria (AHP)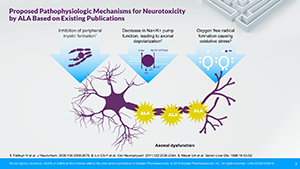 Module 2

Reviews:
Evidence for the role of ALA (aminolevulinic acid) and PBG (porphobilinogen) in attacks
How attacks and, for some patients, chronic symptoms are associated with widespread neurologic lesions, leading to dysfunction across the autonomic, central, and peripheral nervous systems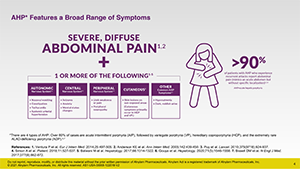 Module 03:
Acute Hepatic Porphyria (AHP): Simplifying the Diagnostic Path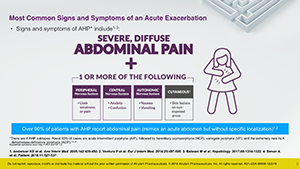 Module

3 Reviews:
The diagnostic challenges of AHP
Common AHP symptoms
How and why AHP can be easily misdiagnosed
Biochemical testing for AHP
Genetic testing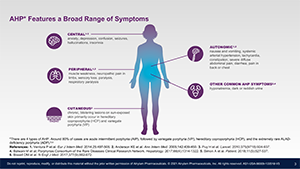 Module 04:
The Patient Burden of Acute Hepatic Porphyria (AHP)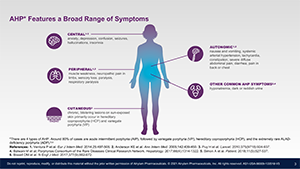 Module 4

Reviews:
The burden of AHP and challenges with diagnosis
The debilitating physical and emotional effects AHP may have on patients' daily functioning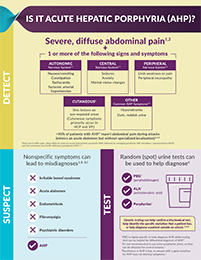 AHP Diagnosis and
Testing Handout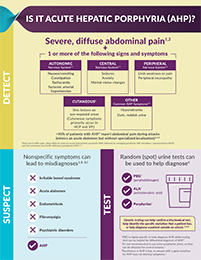 This helpful flyer summarizes:
What AHP is
The signs and symptoms
Misdiagnosis
Using random (spot) urine testing
Consequences of delayed diagnosis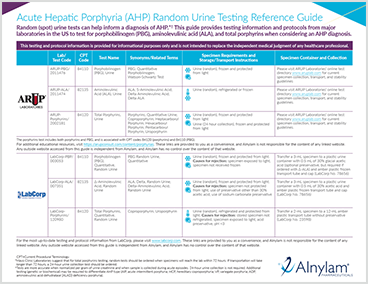 AHP Random Urine
Testing Guide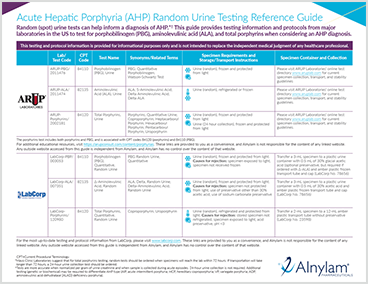 This detailed guide includes:
Testing and protocol information from major US laboratories
CREATING AHP RANDOM (SPOT) URINE TEST PANELS IN ELECTRONIC HEALTH RECORD (EHR) SYSTEMS
See instructions for creating AHP random (spot) urine test panels for some of the most common EHR systems.
gGASTRO AHP URINE TEST EHR INSTRUCTIONS
‍
EPIC AHP URINE TEST EHR INSTRUCTIONS
‍
eCLINICALWORKS AHP URINE TEST EHR
‍
NEXTGEN AHP URINE TEST EHR INSTRUCTIONS
The coding information provided in these instructions is gathered from various resources, is general in nature, is subject to change without notice, and is not intended to provide legal advice of any kind.
Coverage and reimbursement may vary by payer, plan, patient, and setting of care. It is the sole responsibility of the health care provider to select the proper codes, and ensure the accuracy of all statements used in seeking coverage and reimbursement. Providers should contact third-party payers for specific information on their coding, coverage, and payment policies. Alnylam does not guarantee payment or coverage for any product or service.